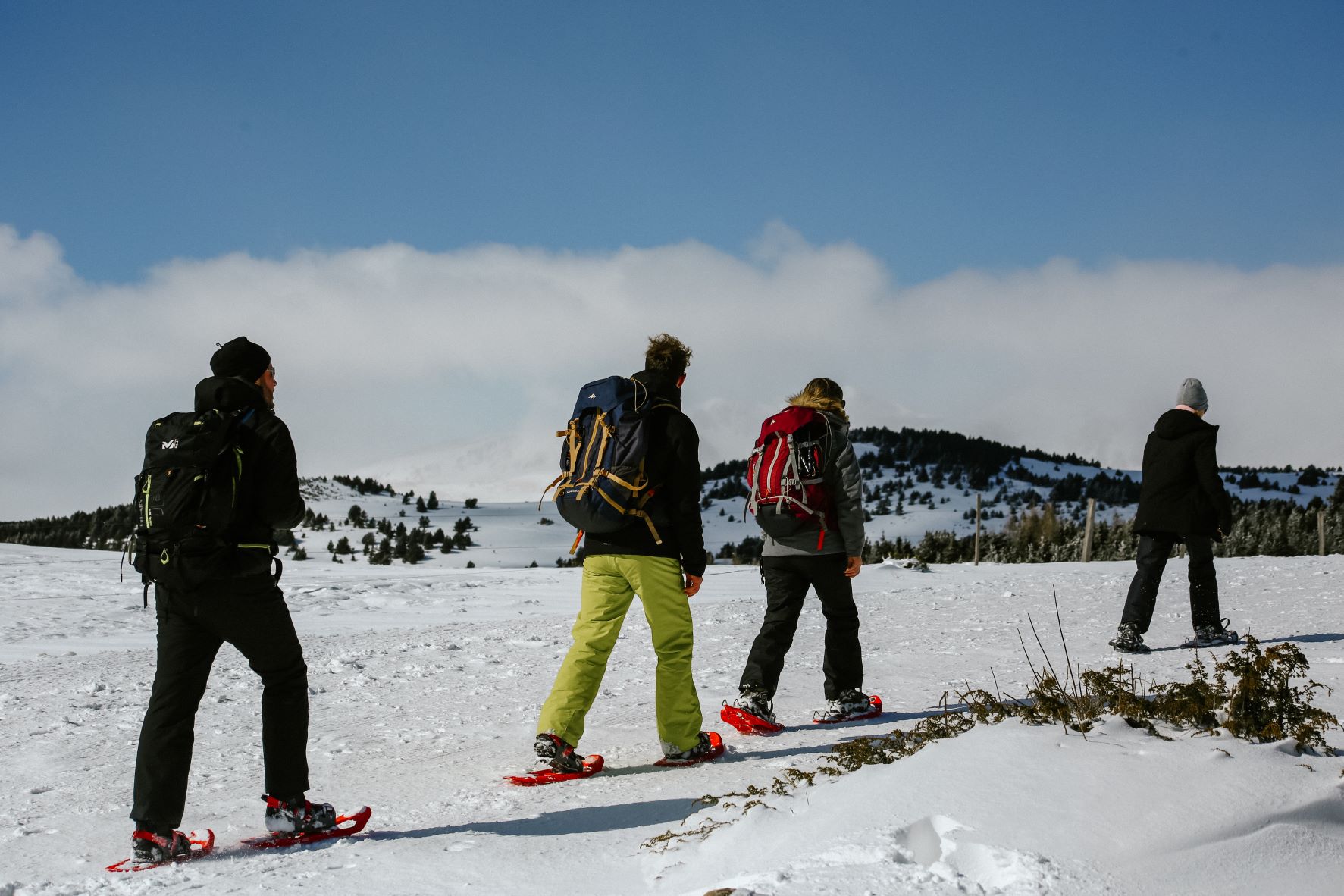 In Font-Romeu Pyrénées 2000, non-skiers can also enjoy our magnificent panoramas and the invigorating air of the heights thanks to the 6 trails, of varying difficulty and distance, dedicated to pedestrians.
With a ski pass, you can discover the ski area at your own pace, on foot or on snowshoes. And for those who love altitude, take a ride on our detachable lifts for an even different view!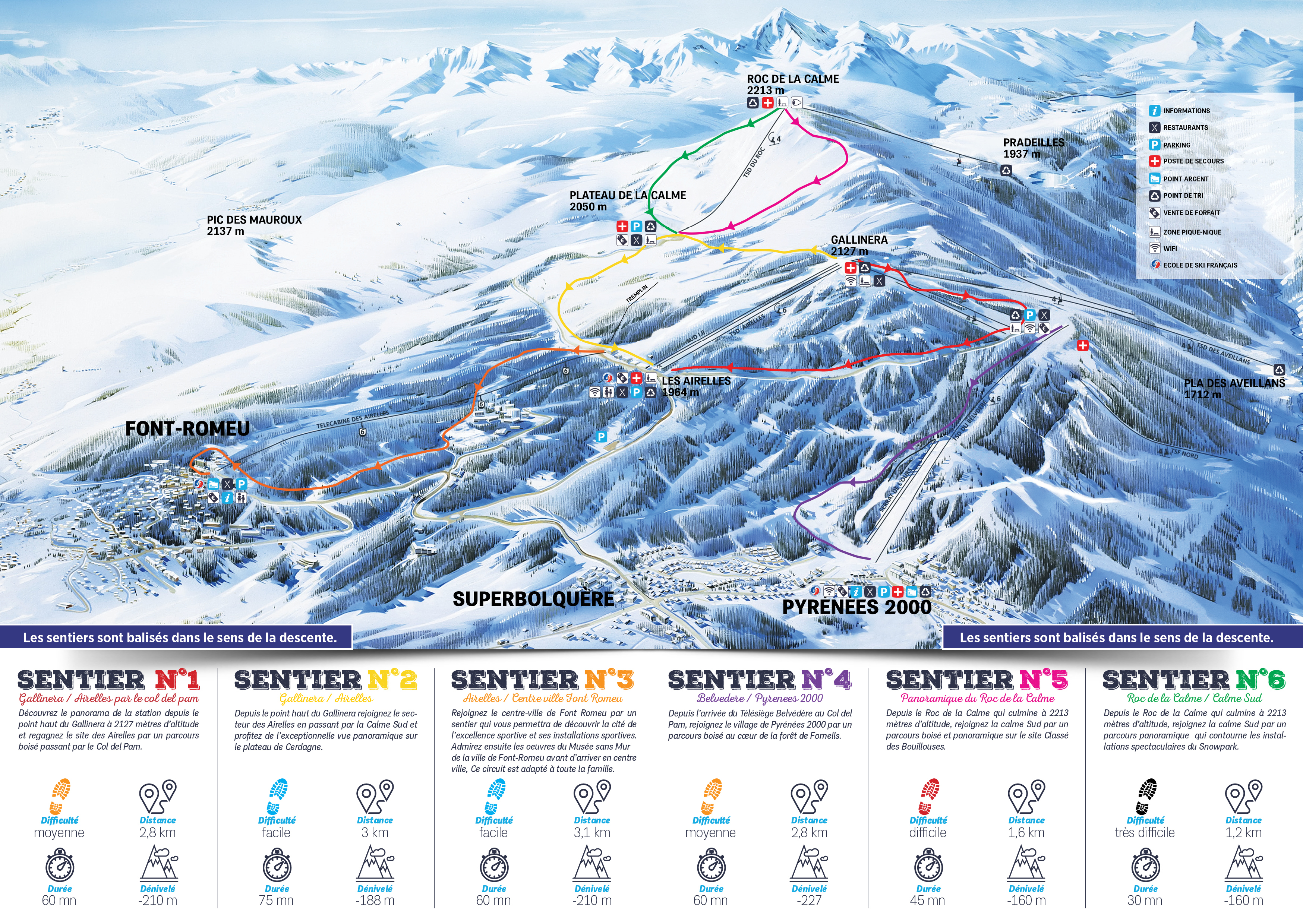 Discover the map of the frosted paths
6 routes are proposed to vary the pleasures and the panoramas. With the lifts, the climb is simplified and you have more time to enjoy the scenery.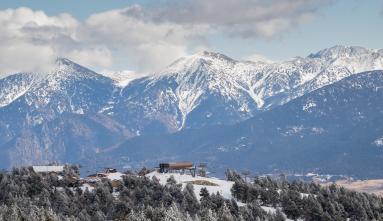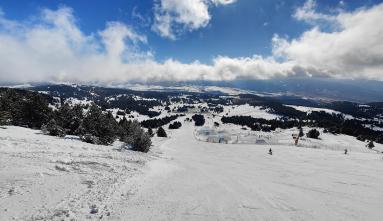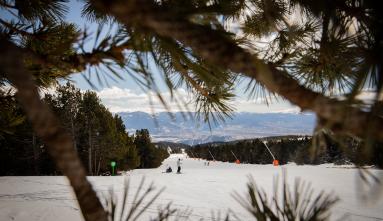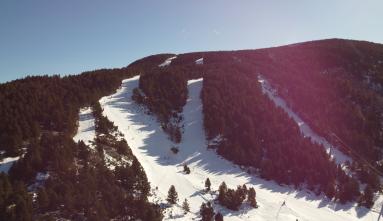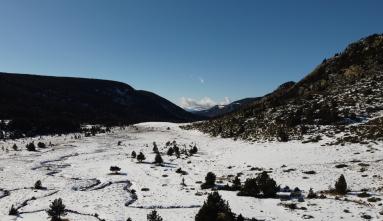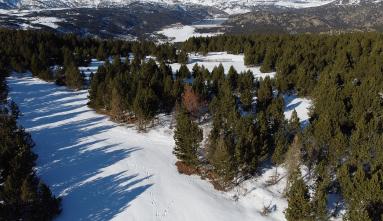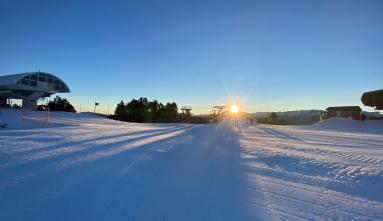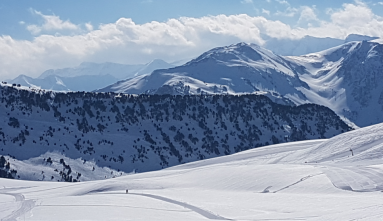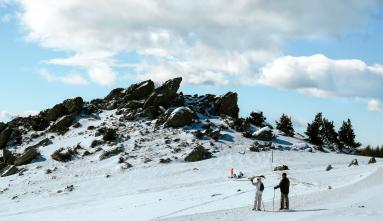 Safety instructions & rules of good conduct
The mountains are a great place for adventure and freedom. However, there are a number of risks inherent in walking and snowshoeing.
To avoid them it is sometimes simply necessary to show humility and common sense in the face of nature.
However, here are some basic tips (not an exhaustive list) for enjoying these pleasures safely:
The marked routes you take are not supervised, so you take on your own responsibility.
Some paths that are accessible in summer are strictly forbidden in winter. When you go for a walk, always take a map of the winter paths or an IGN map for the more experienced.
If you are a beginner or not very experienced, prefer walks supervised by professionals (see the programme of activities available at the Tourist Office) rather than walking alone.
Choose your route according to your level, your fitness and the weather conditions.
When in doubt, it is sometimes better to give up and turn back than to face a dangerous situation.
Never hike alone and inform others of the route you will be using.
Don't leave too late in the afternoon to make sure you get back before dark.
Check the condition of your equipment.
Bring good walking shoes and warm clothes.
For your own safety and that of others, stay on the marked trails.
Remember to eat, hydrate and protect yourself from the sun and cold.
The stability of the snowpack can be very variable. Some routes may be subject to closure. Ask the slopes service for information and follow the safety instructions.
During your walks, you may cross the alpine and Nordic ski areas. Be careful when crossing tracks, don't stop and look before you cross. For safety reasons, access to the Nordic and Alpine trails is strictly forbidden to pedestrians, snowshoers and dogs (by municipal decree).